Food, Drinks, and Night Life
Don't leave Brazil before you try the following:
Guarana
Sweet soft drink made with extract from a plant grows in the Amazon. This is the most popular drink in Brazil
(second only to Beer) Price: a can costs 1R$ in the supermarket, up to 5R$ in restaurants.
Açai
pulp of the fruit found in the Amazon, frozen and blended with sugar and Guarana and optionally with granola and banana. It is advised to purchase in specialized stores, where the ingredients are original. Price: 2-4R$ for 200-300 ml. cup.
Pão de Quejo
A local type of cheese bread, originally from the state of Minas Gerais. It is the most popular bakery product. It is delicious when fresh from the oven, together with coffee. Price: 1-2R$ a piece.
Pastel
A type of pastry filled with cheese/shrimps/heart of palm/ meat / banana etc. and fried in deep oil. It is best when consumed immediately after preparation. Price: 1-3 R$ a piece.
Caipirinha
An alcoholic drink prepared with fine Sugar, Lemon, Cachaça (Brazilian rum made from sugar cane) and Ice.
Price: 3-12R$ - depending on location.
Caipiroska
Caipirinha with Vodka instead of Cachaça Price: 4-15R$ -depending on location and type of Vodka.
Rodizio
All-you-can-eat food, including a salad bar, and then a parade show of different types of meat and/or fish, Pizza, Japanese food etc.
Definitely an experience you should not miss.
Price range: 20-120 R$ (not including drinks) depending on location and quality.
Restaurant per Kilo - A Deli-bar of cold and hot dishes, paid according to the weight. Very popular in many locations of the city. Price: 12-20R$ / Kilo
Excellent Japanese and Italian cuisine
Botafogo: Rua Visconde de Caravelas, 71 (3 floors)
Phone: (21) 2286-3698 / (21) 2539-0698
Barra da Tijuca: Av. Erico verissimo 1015, Phone (21) 2493-2188
Open: Mon-Fri: 11:00-15:00, 18:00-1:00
Saturday, Sunday and Holidays: 12:00- 01:00
In order to get 10% Discount voucher - send me an email
Marius Degustare
Faces Copacabana (Leme) beach, nicely decorated, this is one of the best restaurants in Rio, combines of two restaurants:
Marius Degustare Meat and Marius Degustare Seafood.
Av. Atlantica 290, Tel. 2104-9002
Special raes for groups of over 5 people - contact us.
"An 1894 Art Nouveau landmark in Rio". Stop in for afternoon tea, slice of cake or Saturday feijoada (32 Rua Gonçalves Dias, Centro Phone 2232-2300). We do not like the food of this restaurant, but it worth a visit. (see additional information here).
A chain of rodizio (eat as much as you want) restaurants. We recommend to eat at Porcao Rio's in Flamengo beach. Ask for table no. 13, 14 or 15 for nice view of Sugar Loaf.
Av. Infante Dom Henrique, s/número – Aterro do Flamengo Phone 3461-9020
Price: The price of this restaurant increased by over 100% in the last 3 years. Plan to spend about R$60 including service charge, not including drinks and dessert.
Open all week 11:30 to 24:00 ( Friday Saturday and Holidays till 01:00)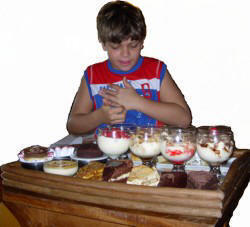 Rodizio, cheaper than Porcao, same quality. Leblon: Av. Afrânio de Melo Franco, 131 - Tel: (21)3329-7700 or 22394491 Barra da Tijuca: Av. Ayrton Senna, 2541 Tel:(21) 3329-7700
It is hard to choose the best desert... Click the picture to enlarge the desserts
Middle Eastern food: For those who love Humus, Falafel, Shawarma etc.
Copacabana: Rua Ronaldo de Carvalho, 55 - Loja C - LIDO. Phone 2275-5596 , 2542-8575 Barra da Tijuca - Rio Design Barra. Avenida das Américas, 7777, 3rd floor Tel. (21) 2431-1664 / 2431-1070
Idetails
Great Ribs
Rua General Severiano, 97 Botafogo - 2543-0339
Monday- Friday 12h - 15h, 17:30 - 23:30; Saturday - Sunday 12:00 - 23:30. Other locations in Brazil: here
Bars and Night Clubs
Rio is famous for Samba and Carnival, but there are a vast range of places to go dancing in the city:
Tango:
Cafe Xango - Rua da Passagem 172 - Botafogo - Phone: 2541-5184 - Every Friday
Conexao - Rua Barao de Mesquita, 482 - Tijuca - Phone: 2288-1173 - Every 1st. Saturday of the month
Salsa:
Cubanito - Shopping Bay Side, Av. das Americas 3120 - Lojas 112 & 113 Barra da Tijuca - Phone 3326-4451 Saturdays at 22:00 hours
Guapo Loco Barra - Av Armando Lombardi 493 - Barra - Phone 2491-5427 - Sundays at 22:00 hours
Noite Latina - Sheraton Hotel - One-Twenty-one Lobby bar - Av. Niemeyer 121Sao Conrado - Phone 2529-1130 - Fridays at 22:00 hours
Zouk:
Ilha dos Pescadores - Estrada da Barra da Tijuca 793, Barra - Phone 2492-1875 - Sundays at 19:00 hours
A noite do Zouk - Rua Tobias do Amaral 60, Cosme Velho - Phone 9731-9140 - Saturdays at 22:00 hours
Nucleo do Zouk - Av Visconde do Rio Branco 14, Centro- Phone 2221-1011 - Fridaysat 22:00 hours
Forro:
Cantinho a Barra - RuaConde D'Eu 96, Barra - Tel: 2429-3078 - Sundays at 23:00 hours
Casa dos Forrozeiros - Estrada do Tindiba 1851, Jacarepagua - Phone: 8173-5242 - Saturdays at 22:00 hours
Casa Rosa - Rua Alice 550 - Laranjeiras - Phone 9363-4645 - Fridays at 23:00 hours
Bolero, cha cha cha
Centro Cultural Carioca - Rua do Teatreo 37, Centro - Phone: 2252-6468
Clube Sirio-Libanes - Rua Marques de Olinda 38 - Botafogo - Phone: 2552-1801
Domingueira Voadora - Rua dos Arcos - Lapa - Phone 8131-6233 - Sundays from 19:00 hours
Live music:

(Check the relevant web sites for current shows)
Severyna - Rua Ipiranga 54 -Laranjeiras - Tel: 2556-9398 (option for groups)
Mistura Fina - Rua Borges de Medeiros 3207 - Lagoa - Tel: 2537-2844 - Minimum Consumption applies - depending on the show
Canecao - Av Venceslau Bras 215 - Botafogo - Phone 2105-2000
Vinicius Piano Bar - Rua Vinicius de Moraes 39 - Ipanema - Tel: 2523-4757 Famous and pricy
Bar Antiquario Rio Scenarium- Rua do Lavradio 20 - Centro
Tel: 3852-5516. 2233 3239
Modern Sound - Rua Barata Ribeiro, 502 - Copacabana - Inside the Shop Tel: 2548-5005
This is a music store with Bar/Restaurant, Monday-Friday: Piano music 13:00-17:00, Live Music/Jazz from 17:00 or 19:00 Saturday music 12:00-20:00
Dama da Noite - Rua Gomes Freire, 773 - Lapa - Tel: 2508-6219, 2509-4237
Carioca da Gema - Rua Mem de Sa 79 - Lapa - Tel:2221-0043 - Minimum consumption applies.
Circo Voador - Rua dos Arcos sem numero, Lapa - Phone 2533-0354
Estrela da Lapa - Live music and dance Av. Mem de Sa 69, Lapa. Tel. 2507-6686
Some of the rehearsals are open to the public, mainly on Friday-Saturday evening. The most popular samba school is Mangueira and some weekends they receive up to 10,000 visitors. The entrance fee varies between 10 to 50 R$.
Mangueira - Rua Visconde de Niteroi 1072 - Mangueira - Tel: 3872- 6786/2567.4637
Salgueiro - Rua Silva Teles, 104 - Andarai - Phone: 2288-3065 - Saturdays from 22:00 hours
Unidos da Tijuca - Rua Sao Miguel430 - Tijuca - Phone 2263-9836 - Saturdays
Imperio Serrano. Avenida Ministro Edgard Romero, 114, Madureira, 2489-8722 or 2489-5696. Saturdays from 23:00 hours
Portela. Rua Clara Nunes, 81, Madureira, 2489-6440. Fridays from 23:00 hours
Vila Isabel. Avenida Boulevard Vinte e Oito de Setembro, nº 382, Vila Isabel, 2578-0077 or 2576-4120. Saturdays from 22:00 hours
Other schools (check availability in the web site):
Beija-Flor www.beija-flor.com.br
Caprichosos de Pilares www.caprichososdepilares.com.br
Grande Rio www.granderio.org.br
Mocidade www.mocidadeindependente.com.br
Porto da Pedra www.gresuportodapedra.com.br
Rocinha www.academicosdarocinha.com.br
Viradouro
Imperatriz Leopoldinense
Read more about rehearsals here