What to do in Rio de Janeiro
The city of Rio de Janeiro has a lot to offer. You can easily spend a week or two exploring the city and its suburbs. See below the main attractions with links to local sites:
Beaches
There are about 40 km of beaches in Rio. All beaches are beautiful, some are polluted. It is not advised to bath in the Red ones. We recommend that you visit those marked Yellow: URCA, VERMELHA, FLAMENGO, BOTAFOGO, LEME, COPACABANA, ARPOADOR, IPANEMA, LEBLON, VIDIGAL, SÃO CONRADO, BARRA DA TIJUCA, RECREIO DOS BANDEIRANTES, PRAINHA and GRUMARI. Do not miss the New Year's festival in Copacabana Beach.
The Sugar Loaf mountain Rises 396 meters at the entrance to the Guanabara Bay, in Urca neighborhood. Go up by two stage Cable car. At the top you can enjoy amazing view of the east side of Rio and Niteroi.

Avoid arrival at noon, as you will be in a car together with 74 other sweating tourists (no air-condition / ventilation). Try to be there for the first departure at 8:00.

| | |
| --- | --- |
| Address: | Avenida Pasteur, 520 – Urca |
| Open time: | daily 8 am to 10 pm |
| Telephone : | (21) 2546-8400 |
| Price : | 53 R$ |
| Get there from Copacabana : | Bus Line 511 from N.S. Copacabana, 512 back to Copacabana |
| Private tour: | contact |
| Website: | http://www.bondinho.com.br |
After visiting the Sugarloaf, it is recommended to visit:
Trilho Claudio Coutinho (Promenade Claudio Coutinho)
Pleasant walk at an ecological reserve, partially controlled by the Army.
Getting there - from the Sugarloaf base station walk towards the sugar loaf: cross the square with the high statue (Praça General Tibúrcio) and the adjacent small parking lot.
The trail is a footpath that runs for over 1 Kilometer beside the sea along the Sugarloaf. From here you may climb to the first hill, or even to the top (with special equipment and a local guide).

| | |
| --- | --- |
| Address: | Avenida Pasteur, 520 – Urca - after the sugarloaf |
| Open time: | Daily 06:00 to 18:00. |
| Telephone : | - |
| Price : | Free entrance |
| Get there from Copacabana : | Bus Line 511 from N.S. Copacabana, 512 back to Copacabana |
| Group Tour Price | Not Available |
| Private tour: | Included in Pao de Acucar tour - contact |
| Website: | |
Corcovado (Christ The Redeemer)
A peak rises 710 meters over the entire city, offering all-round panorama. The 30 meter (plus 10m base) high statue of Christ the Redeemer is a symbol of both Rio de Janeiro and Brazil. Access by Car/Taxi/Van to the top, or by train (trip duration approx. 20 minutes) through the Tijuca Forest ('largest urban forest in the world').


IMPORTANT: As of August 2013

it is impossible to purchase train or entrance tickets locally .
To reach the corcovado by
train - http://www.corcovado.com.br/ or go to the ticket counter located at Rios city center: Rua Candelaria 6
Van: http://www.ingressorapido.com.br or at the ticket counter at the departure location: Praca do Largo do Machado - Catete.

We recommend to

| | |
| --- | --- |
| Address: | Train Station: Rua Cosme Velho 513 |
| Open time: | 08:00 to 18:30 |
| Telephone : | |
| Price : | Train: |
| Get there from Copacabana : | Bus: 583 from N.S. Copacabana to Rua Cosme velho (train station), 584 back to Copacabana |
| Private tour: | contact |
| Website: | http://www.corcovado.com.br/ |
Mirante do Pasmado
(Yitzhak Rabin Park)
Close to Rio-Sul Shopping center, have a panoramic view of Botafogo, Sugar Loaf, Flamengo and Corcovado. On top of the hill - a monument of the late Israeli Prime Minister Itzhak Rabin
Access by Car / Taxi / Foot through Rua Bartolomeu Portela, Botafogo, or at the exit of Pasmado Tunnel.
Free entrance
At the beginning of Leme beach - climb up 210 meter for a panoramic view of Copacabana, nearby islands, Sugar Loaf etc. The Fort at the top built between 1776-1779, named as Forte do Vigia. It was reformed at 1895, and renamed as Forte do Leme. On 1918 it received 8 heavy 280mm guns, made by Krupp Germany. The place changed name again in 1935 - to be called Duque de Caxias. Since 1965 this is a study center of the Brazilian Army, and open for the public at weekends and holidays
Access: Through the army's study center.

| | |
| --- | --- |
| Address: | Praça Almirante Júlio de Noronha, Leme |
| Open time: | Sat., Sunday and part of the holidays 9-16h |
| Telephone : | (21) 2275-7696 |
| Price : | 3R$, up to 13 years - Free. |
| Get there from Copacabana : | By foot / Taxi |
| Group Tour Price | N/A |
| Private tour: | Can combine with other activities - contact |
| Website: | www.funceb.org.br/espacocultural.html |
Built in 1914 to defend Guanabara Bay, open to public since 1987 as the Army Historical Museum. A panoramic view of Copacabana.
| | |
| --- | --- |
| Address: | Av. Atlantica - Posto Seis – Copacabana. |
| Open time: | daily, 9-16h |
| Telephone : | (21) 2521-1032 |
| Price : | 4R$ |
| Get there from Copacabana : | By foot / Taxi |
| Private tour: | contact |
| Website: | www.fortecopacabana.ensino.eb.br |
Situated on the top of a hill, Santa Teresa has some of the looks and ways of old Rio, together with the new buildings.
Stroll around and feel special atmosphere of beautiful houses and gardens on narrow streets, and the new constructions of Favelas covering great part of the nearby hills, see views of Guanabara Bay (Baía de Guanabara).
Visit: Museu da Chacara do Ceu, Rua Murtinho Nobre 93, Santa Teresa.
Phone: (21) 2224-8981 Website: http://www.museuscastromaya.com.br
Open: Daily, except Tuesdays, noon - 5 pm

Get there: By Bus, Taxi or Tram (best option)
Ride on a yellow tram that crosses over Lapa Arches up the slopes of Santa Teresa.
As of October 2011 the tram is out of service untill further notice. Use the bus.
| | |
| --- | --- |
| Address: | Tram Station - Rua Lélio Gama, Downtown-Center |
| Open time: | As of October 2011 the tram is out of service untill further notice. Use the bus. |
| Telephone : | 2240-5709 |
| Price : | R$ 0,60. Every Saturday at 10:00 Tourist ride, 4.00 R$ |
| Get there from Copacabana : | Buses numbers 206 and 214 |
| Group Tour Price | N/A |
| Private tour: | Part of City Tour |
| Website: | www.sectran.rj.gov.br/ |
The former aqueduct built in 1724 to supply water to the city center from the springs of Santa Teresa. The 42 Roman-style arches serve as a path to the tram (Bonde) that goes from the city center to Santa Teresa. We recommend a trip with a tram over the Lapa Arches. Sit on the side and look down...
City Center
Get there by subway - Carioca station
Praça (Square) 15
The oldest part of Rio, once the center of the colonial city and offices of the Empire. Board a boat to several locations.

Built in 1880, once served as the head offices of both this bank and the Rio de Janeiro Commercial Association. In 1989 it was converted into a cultural center.
Address: Rua Primeiro de Março 66, Centro. Telephone (21)3808-2020 Open Tues - Sun, 12:30 a.m. - 7 p.m. Free Entrance

Website: www.bb.com.br/appbb/portal/bb/ctr/rj/index.jsp

Casa França Brasil : Dating back to 1820, neo-classical building by architect Grandjean de Montigny Address. Rua Visconde de Itabora, 78 - Centro
Phone: 2253-5366
Website: http://www.casafrancabrasil.rj.gov.br
Time: Tues-Sun, noon-8pm. Entry free

Work began on Monastery in 1617, and expanded a hundred years later.
Address Rua Dom Gerardo, 68 - Centro - Rio de Janeiro - RJ
Telephone: (21) 2291-7122
Nossa Senhora da Candelária Church :
"This is one of the loveliest churches in Rio de Janeiro" Built in the 18th Century. Lined with marble, its masonry facades feature elaborate bronze doors, with its entire history painted on the walls.
Address: Praça Pio X, Centro. Telephone 2233-2324
Founded in 1894 and still retains its beauty - this pastry shop/restaurant is nice to see, have a coffee or a snack. The food in the second floor restaurant is Not recommended.
Address Rua Goncalves Dias 32, Tel:(21) 2232-2300
Open Mon.- Fri. 8:30 a.m. - 7 p.m., Sat. 8:30 a.m. - 1 p.m.
See also Restaurants
Catedral Metropolitana (Metropolitan Cathedral)
Work on the cone-shaped Cathedral began in 1964 and inaugurated in 1976, with place for 20,000 people. It's worth stepping inside to see its four huge stained-glass windows.
Museum of Sacred art - at the basement of the cathedral
Address: Avenida República do Chile, 245 Downtown
Phone: (21)-2240-2669
Open: Daily from 7:30 until 6pm
Website: www.catedral.com.br
Sambodromo (Carnaval parade location)
If you arrive to Rio between December and February - you should visit the Sambodromo to see one of the Carnaval parades or the rehearsals. In other dates, pass through the Sambodromo, just to say 'I've been there'... see Carnaval information
Monument to the Soldiers Killed in World War II
The monument is dedicated to the Brazilian G.Is (ex-combatants) killed during World War II. Built in 1952, located close to the national airport.
On the first Sunday of every month the three Armed Forces - Army, Navy and Air Force - change the guard, in ceremonies featuring the Marine Band and Joint Forces Squad on parade.

Address: Monumento Nacional aos Mortos da Segunda Guerra Mundial - Av. Infante Dom Henrique - Parque Brigadeiro Eduardo Gomes - Aterro - Tel.: 2240-1283
Free Entrance. Special Dress Code to part of the monument.
Inaugurated on 1889 in the presence of the Emperor. A beautiful building and location - worth a visit
Address: Av. Alfredo Agache, at the end of Praça Quinze (Square 15) Tel: (21) 3870-6992
Entrance: Guided tours Thursday to Sunday at 1 pm, 2:30 pm and 4 pm.
Price: 8R$, children 4R$, Half price on the second weekend of every month

You may visit at the same time the Navy Cultural Space Located where the old Customs docks operated, hosting permanent expositions: The History of Navigation, Underwater Archeology in Brazil, and the Alves Câmara Collection Brazil, as well as:
Bauru Ship-Museum
This is a floating museum installed at the torpedo-boat Bauru,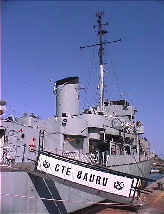 anchored at the pier. Its facilities hold a permanent exhibition of arms utilized during World War II
Riachuelo Submarine Museum
During its time in active service, the Riachuelo submarine traveled over 181,000 miles, 1,238 days at sea and 17,700 hours under water . Touring its compartments , visitors learn about its weaponry and machinery, getting a good idea of life on board.
Botanical Gardens
Founded on June 1808 by D. João VI, the Botanical Gardens were created for the acclimatization of spices brought from the East Indies. The first plants arrived from Mauritius. Among them was Palma Mater, one of the oldest imperial palm trees of the Gardens.
The attractions include approx. 1700 bromeliads of different formations, violets, greenhouse of insect-eating plants, cacti collection - one of the biggest in Brazil, and
the collection of medicinal plants. The Gardens' six lakes with species of "vitória régia", lotus, papyrus and " água-pé" are really beautiful. We recommend a visit during week days.
| | |
| --- | --- |
| Address: | Rua Jardim Botânico 920 and 1008, Jardim Botânico |
| Open time: | Daily 8 am to 5 pm |
| Telephone : | (21) 2294-9349, 2239-1497 (21) 3874-1808 |
| Price : | 6 R$, Parking 5R$. Free entrance to children under 7, senior citizens over 65, handicapped and local students |
| Get there from Copacabana : | By car - car park and entrance to the Visitors Center |
| Group Tour Price | N/A |
| Private tour: | Consult |
| Website: | www.jbrj.gov.br/ |
Barra da Tijuca
About 20 Km south of Copacabana, Barra is a fast growing area, contains some of the best shopping centers and excellent restaurants.

The beach is the longest in Rio, with clear waters and perfect waves for surfers. Lined with bars, kiosks and restaurants.

Bus: 175, 177 or any line with the sign "Barra)

Hang Gliding (Voo Duplo/Asa delta)
Jump off a 550 Meters cliff - from a mountain called Pedra Bonita down to the beach.
10 to 15 minute ride offering staggering view of the Tijuca Forest and the beachside resorts below.
In order to take-off you must keep running, so that you push yourself out and away from the cliff. Look at the sky, not your feet, while running...
Some pilots offer a course that will allow you to fly alone. Make sure your instructor has a license at the local association.
Price: about 90US$ depending on negotiation and availability.
Location: meeting point at Pepino Beach in São Conrado area, driving up to Pedra Bonita.
You may go up by yourself (taxi/car) to Pedra Bonita for a nice view of the area.
Mountain Climbing and tracking:
The following locations are popular for climbing:
Sugarloaf (the easiest) – 5 hours climbing, equipment is only used when crossing the cliff face.
Gávea Rock – 7-8 hours – (The hardest).
For Tracking:
A walk up to the summit of Corcovado - gives the most beautiful view of the city. Walking time about 4 hours.
Tijuca Forest /Park (Floresta da Tijuca)
"The largest urban wooded area in the world". Some tracks are suitable also for children.
Guided tours on Sundays (depending local weather) from the administration office at the park or from another location, as described in Tijuca National Park (PNT)
Get there by Car / Taxi, Bus: Rodoviária Novo Rio - Alvorada - 233, 234
Free entrance. Time: Daily, 8am-5pm
Phone: (21) 2492-2252


Favela
(Shantytown / Slum)
There are close to 600 favelas in Rio. Mostly placed on former public areas on the hillsides, they are now home to about 30% of Rio's population. Rocinha is the largest one in the country, with official population of 60,000. Unofficial numbers are over 100,000. It may be dangerous to walk or drive into a favela. If you are interested to visit one - join an organized tour. The tour operators pay part of their income to the local community, providing safe entry even with expensive cameras.

Organized Favela tour price: R$50-75 - depending on the tour guide and the favela visited
Maracanã is one of the world's largest soccer stadiums, holding more than 100,000 seats.

To watch a football game, check availability here. Tickets are available at the stadium.

In days without games, you may visit the stadium including the upper seats, play-field etc. Note about the entrance fee: the price went up from 8 R$ in 2004 to 20R$ in 2006. It is cheaper and more interesting to enter the stadium and watch a game.

We do not recommend the entrance without the game. you may just visit the entrance of the stadium (no charge, free parking).
| | |
| --- | --- |
| Address | Rua Professor Eurico Rabelo, s/n. - Maracanã |
| Open time: | Daily 9:00 to 17h. In days of games, 8:00 to 11:00 |
| Telephone: | (21) 2568-9962, 2299 2941 |
| Price: | Without game: 20 R$, Games (local groups):15-50 R$ |
| Get there: | by Metro (Maracana station) / Taxi. |
| Group Tour Price | Transfer and entrance to games 40-50R$. |
| Private tour: | Consult |
| Website: | www.suderj.rj.gov.br/maracana/main.asp |
This park in Alto Leblon, with an area of 140,000 square meters offers dirt trails, a small theater, and a beautiful view of Leblon/Ipanema beaches. The place is comfort and safe, plenty of (free) parking place, secured and illuminated.
We recommend climbing the park by taxi/car to watch the sunset.
Sitio Burle Marx
This large estate out of the city of Rio belonged to one of the most important landscape artists of modern times, Roberto Burle Marx who donated it to the Brazilian government in 1985, before his death on 1994. Here you may find 3,500 plant species, a house that is now a cultural center with art collection and a library with over 2,500 books.
Address
Open time:
Guided tour up to 35 people - need to reserve in advance.
Tue -Sat. 9:0 and 13:30, Sunday 09:30
Telephone:
(21) 2410-1412 ex. 226
Price:
5r$ (children up to 5 years free)
Get there:
Drive South in Avenidadas Americas (Barra da Tijuca), pass Recreio dos Bandeirantes and Grota Fonda, arrive to the

intersection with

Estrada Roberto Burle Marx 2019

Group Tour Price
N?A
Private tour:
Upon Request

Website:

-
This is the new location for the Carnival parade workshops -prepare their Carnival carts.
The visitors can enjoy Performances, drummers, sewing and sculpture and brief shows at 2, 4 and 6pm.
On Thursdays, from noon to 6pm there are workshops at 4 and 6pm and a great show with 100 components starting at 8pm, with a parade in the end with the visitors participation, as well as a firework display. Buffet dinner and Cocktails are also served. See additional information in Samba City page
Nsa Sra da Gloria do Outeiro Church
Reach it by Ladeira da Gloria, or take a cable car.
Address: Praca N. S. da Gloria, 135 - Glória
Tel: (21) 2285-2600

Over 2000 animals (mammals, reptiles and birds) and approximately 300 species.
If you are interested in birds, consider visiting this zoo. Otherwise, there are much better Zoos in other parts of the world, even in Sao Paulo.
Best visiting time: Tuesday - Thursday after 13:00. Too crowded on weekends and public holidays.
| | |
| --- | --- |
| Address | Quinta da Boa Vista, s/nº - São Cristóvão |
| Open time: | Tue-Sun, 09:00 - 16:30pm |
| Telephone: | (21) 2569-2024 |
| Price: | 5R$ |
| Get there: | By Taxi, close to Maracana Stadium |
| Group Tour Price | N/A |
| Private tour: | Consult |
| Website: | www.rio.rj.gov.br/riozoo |
Next: What to do around Rio , Food and Leisure , Shopping and Fairs